April 17th 2015 Posted at Uncategorized
Comments Off on Unlimi-Tech Integrates with Scale Logic to Accelerate File Transfers in the Media and Entertainment Industry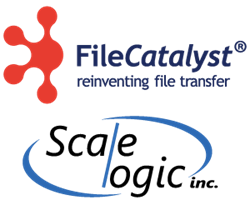 Ottawa, Canada (PRWEB) April 02, 2015
Unlimi-Tech Software, Inc., an Emmy® Award winning pioneer in managed file transfers and the creator of FileCatalyst, a world leading accelerated file transfer solution, is pleased to announce an integration partnership agreement with Minnesota based Scale Logic.
Scale Logic, Inc. is a value added global solutions company focused on storage and networking infrastructures. They have developed strategic relationships around RAID, NAS, SAN, and Archive technology that focuses on logical solutions to complex storage needs in the media and entertainment industry.
FileCatalyst has partnered with Scale Logic to provide the latest in accelerated file transfer technology to their media and entertainment clients looking to increase file transfer speed. FileCatalyst's platform is immune to packet loss and latency while transferring large files, which is beneficial to Scale Logic's clients. While other methods of file transfer are unable to keep up with increasing file sizes, FileCatalyst ensures the secure transfer of any size and format of file, at speeds of up to 10 Gbps. Files that traditionally took hours and days can now be transferred in a matter of minutes.
"Scale Logic has a philosophy of providing the best end-to-end storage solutions in the industry to complement our partners' capabilities," said Daryl Heinis, CTO at Scale Logic. "By integrating FileCatalyst, we're able to offer accelerated file transfers in our solutions, which is a great benefit to our customers."
"We are very proud to see our software become an integral component in partner products," said Unlimi-Tech's Vice President of Business Development, Alan Atkinson. "This partnership with Scale Logic is exciting and will provide a great advantage to their end users."
About Unlimi-Tech Software, Inc.

Located in Ottawa, Canada, an Emmy® Award winning pioneer in managed file transfers, is the creator of FileCatalyst, an accelerated file transfer solution. Founded in 2000, the company has more than one thousand customers in media & entertainment, energy & mining, gaming, and printing, including many Fortune 500 companies as well as military and government organizations. FileCatalyst is a software platform designed to accelerate and manage file transfers securely and reliably. FileCatalyst is immune to the effects that latency and packet loss have on traditional file transfer methods like FTP, HTTP, or CIFS. Global organizations use FileCatalyst to solve issues related to file transfer, including content distribution, file sharing, and offsite backups. To learn more, visit filecatalyst.com or @FileCatalyst on Twitter.
About Scale Logic

Scale Logic engineers and deploys value-added services and storage centric solutions for Mobile, Broadcast, OTT, Streaming, and Post Production Workflows. These solutions are designed specifically for customers requiring high-performance, highly reliable data storage and network infrastructure. Its 25+ years experience in both structured and unstructured data workflows underpins its consultative approach as a trusted extension of its customer's resources. Scale Logic's value to customers is demonstrated by the range of products and related services it offers, from entry-level and mid-tier storage solutions to global enterprise platforms, including Scale-Out NAS, SAN, and Archive. Scale Logic offers a complete suite of lifecycle management, workflow enhancements, solution design and installation, post-sales maintenance options, and system integration.
To learn more, please visit http://www.scalelogicinc.com
Both comments and pings are currently closed.