April 28th 2015 Posted at Uncategorized
Comments Off on FileCatalyst Integrates with Studio Suite Xi to Provide Accelerated File Transfer for Media Production Environments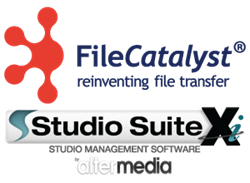 Ottawa, Canada (PRWEB) April 07, 2015
Unlimi-Tech Software, Inc., an Emmy® Award winning pioneer in managed file transfers and the creator of FileCatalyst, an accelerated file transfer solution, is pleased to announce an integration partnership agreement with California-based AlterMedia, Inc.
AlterMedia is the developer of Studio Suite Xi, a studio management software that simplifies the process of scheduling, and managing workflows for media production environments. Studio Suite Xi has integrated FileCatalyst Direct accelerated file transfer capabilities into its studio management solution to enable accelerated, reliable, and secure file transfers for media professionals.
Within the Library module of the Studio Suite Xi software, a user is able to see and keep track of all physical and digital assets. Users can transfer their digital assets, ranging in size from small files to large feature film files, to other locations directly from within the software. By integrating FileCatalyst's patented UDP-based protocol within the software, users can send and retrieve files at accelerated speeds of up to 10Gbps, since FileCatalyst is immune to network impairments such as latency and packet loss. Each file is also verified byte-by-byte using MD5 checksum to ensure there is no data corruption, so file delivery is guaranteed.
"Studio Suite Xi maintains a wide range of customers that budget, schedule, produce, and deliver content," said Joel Stoner, Founder and CEO of AlterMedia. "By integrating FileCatalyst, we are excited to be able to offer our customers a fast and secure way to not only transfer large media files directly from within Studio Suite, but also to manage the business side of these transfers, automatically logging them, and optionally turning them into billable line items for the Studio Suite Project."
"We're thrilled to integrate with Studio Suite Xi," said Unlimi-Tech's Vice President of Business Development, Alan Atkinson. "Today's media and broadcasting professionals demand a fast file transfer. FileCatalyst will provide their users with blazing-fast transfer of their large media files."
About Unlimi-Tech Software, Inc.
Located in Ottawa, Canada, Unlimi-Tech is a pioneer in managed file transfers and is the creator of FileCatalyst, an Emmy® Award winning accelerated file transfer solution. Founded in 2000, the company has more than one thousand customers in media and entertainment, energy and mining, gaming, and printing, including many Fortune 500 companies as well as military and government organizations. FileCatalyst is a software platform designed to accelerate and manage file transfers securely and reliably. FileCatalyst is immune to the effects that latency and packet loss have on traditional file transfer methods like FTP, HTTP, or CIFS. Global organizations use FileCatalyst to solve issues related to file transfer, including content distribution, file sharing, and offsite backups. To learn more, visit filecatalyst.com or @FileCatalyst on Twitter.
About AlterMedia
AlterMedia is the developer of Studio Suite, the leading studio management software. The Burbank, CA based company supports over 1,500 customers in 50+ countries using Studio Suite to schedule, produce, and deliver content on time and on budget. For more information, and a free 30 day trial, please visit http://www.studiosuite.com.
Both comments and pings are currently closed.